eRIS III long range and long endurance Unmanned Aerial System
eRIS III is a long range UAV combined with tracking antenna and ground control station make eRIS II a long range Unmanned Aerial System that can be operated by crew of two.
Reliable UAV for flights above land and sea, day and night surveillance of infrastructure and large areas in longer periods of time and severe weather conditions.
eRIS III engine with electronic fuel injection ensures low fuel consumption allowing long flights up to 15 hours.
eRIS III has integrated ISR sensor but possibility of integration other sensors exists (ISR Gimbal, high resolution digital camera, multispectral camera. LIDAR…) and feel free to contact us if you are interested for any solution.
eRIS III optionally can be controlled by triple redundant autopilot which is overseen by arbiter unit.
MTOW 23,5 kg
Empty weight 19,3 kg
Wingspan 3,3 m
Lenght 2,3 m
Max range 80 km
Max emdurance 15 h
Ceiling 2500 m AMSL
Cruise speed (IAS) 25 m/s
Max speed (IAS) 32 m/s
Powerplant 2,5 hp
Takeoff Catapult / Runway takeoff
Landing Runway landing / Parachute (emergency)
Electronic fuel injection engine
Reduced noise
Low fuel consumption (up to 350 g per hour)
Fuel mixture (2% oil)
Reliable and safe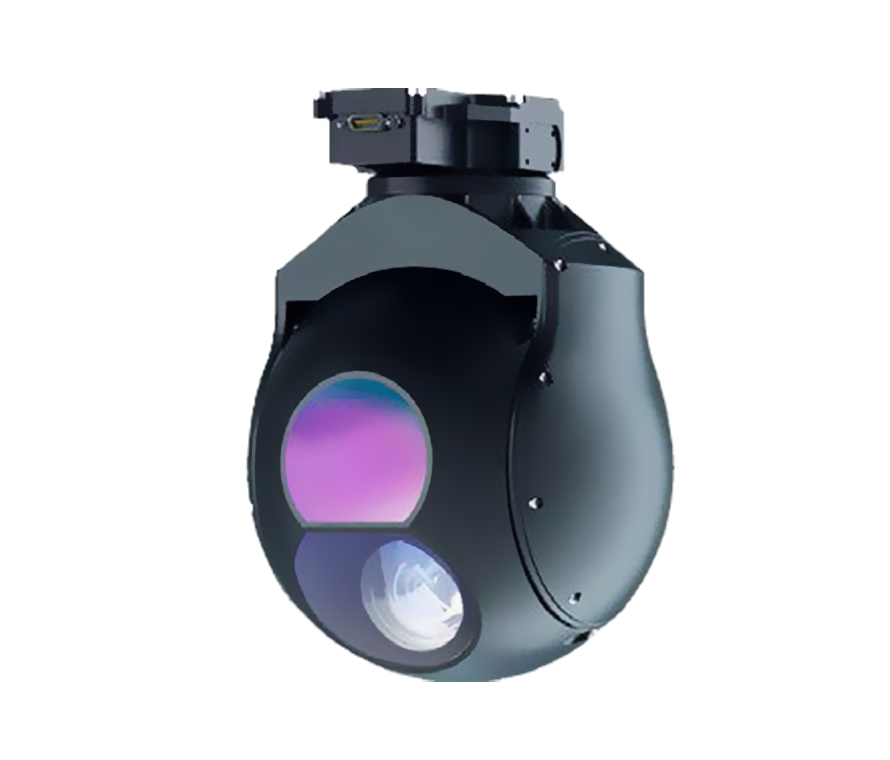 HFOV 2,3° – 63,7° (EO) | 5,5°(IR)
Slew rate 360°/s
Stabilisation 2-axis
Elevation ± 180°
Sensor 2,8 Exmor (EO) | Boson 640, 73 mm (IR)
Image size 1920×1080 – 60 FPS (EO) | 640×5112 – 9 Hz (IR)
IC spectrum 7,5 – 13,5 µm
Thermal sensitivity NEdT < 40 mK
Zoom 30x optical (EO) | 10x digitalno (IR)
Picture | Video .jpg (2,13 MP) | .mp4 (1080p)
Focal length 4,3 – 129 mm (EO) | 14 mm (IR)
Interfaces CAN Bus control | IP video
Advanced capabilities Target Tracking, Moving obstacle detection, Fly-By-Cam
Izvor snage 24 VDC | 24 – 72 W
Directional antenna for control and video transmission
Encrypted signal
No UAV integrated storage 
Transmission of HD video signal in real time up to 100 km distance
Direct control of UAV up to 100 km distance
Endurance up to 1800 km